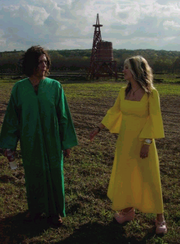 Tim DeLaughter
is a singer and songwriter from
Dallas
,
Texas
and the leader of the
Polyphonic Spree
. He gained notoriety as the very energetic and engaging front man for both
Tripping Daisy
and the Spree. After Tripping Daisy's breakup, Tim opened the record store
Good Records
located in the Dallas entertainment district Deep Ellum. In addition to writing the Spree's music, he also composed the
score
to the film
Thumbsucker
.
He is the husband of Julie Doyle and father to Julius, Oscar, Stella and Felix.
DeLaughter is pronounced to rhyme with 'slaughter', not ha-ha 'laughter'.
Ad blocker interference detected!
Wikia is a free-to-use site that makes money from advertising. We have a modified experience for viewers using ad blockers

Wikia is not accessible if you've made further modifications. Remove the custom ad blocker rule(s) and the page will load as expected.