Thumbsucker is the soundtrack to the film of the same name, directed by Mike Mills. Mills was originally working with Elliot Smith to write the soundtrack, but only three songs were recorded before Smith's untimely death. The soundtrack was left untouched until Mills went to a Spree show. The optimisim and positivity it gave him prompted him to contact Tim DeLaughter regarding the unfinished soundtrack. Mills is of the opinion that the band "saved Thumbsucker."
It is of note that this is not a release by The Polyphonic Spree, but neither is it a Tim DeLaughter solo album. Although the majority of songwriting, composition and performance is done by Tim, he has help from a variety of band members. The final song, Move Away and Shine (In a Dream version), can probably be considered a Polyphonic Spree song.
The beginning of this movie credits the entire band with the songs, but individual members are named in the end credits. The entire band plays the songs at live shows in 2005.
US Release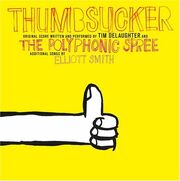 Overview
Released: September 13, 2005
Record Label: Good Records Recordings / Hollywood Records
Country: United States
Tracklisting
Thirteen (Elliot Smith)
Debate Montage (Compliments of Tripping Daisy)
Trouble (Elliot Smith)
Sourness Makes It Right (Compliments of Tripping Daisy)
Let's Get Lost (Elliot Smith)