Spree Biscuits
were first devised for the
August 15th show
at Koko in London. While there were differences between the biscuits, they all shared the common theme of being small robed individuals. The robes were then coloured with icing.
Steve and Cat spent the 2 weeks before the show baking the gingerbread and shortbread biscuits. Most of them were handed out to complete strangers waiting in the queue outside Koko.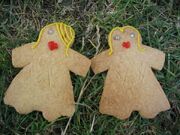 Ad blocker interference detected!
Wikia is a free-to-use site that makes money from advertising. We have a modified experience for viewers using ad blockers

Wikia is not accessible if you've made further modifications. Remove the custom ad blocker rule(s) and the page will load as expected.