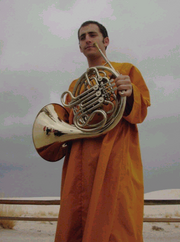 Louis Schwadron
played French Horn in the
Polyphonic Spree
, replacing
Andrew Tinker
in Summer
2003
and leaving the band in October
2005
to pursue a career in dance.
Andrew's loveable over-excited stage antics left Louis with a large hole to fill in the hearts of the fans, but he managed to do so, mainly with his R&B Sex Dance.
Louis wrote and directed A Polyphonic Christmas Carol for the 5th Annual Holiday Extravaganza.
Ad blocker interference detected!
Wikia is a free-to-use site that makes money from advertising. We have a modified experience for viewers using ad blockers

Wikia is not accessible if you've made further modifications. Remove the custom ad blocker rule(s) and the page will load as expected.