"What kind of monster would do such a thing? God... WHY?!" - Joe Butcher, All Dead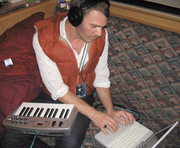 Joe Butcher
is the former pedal steel player for the
Polyphonic Spree
. In addition to pedal steel he also provided some keyboards.
Previous to his Polyphonic Experience, he was the frontman in Ufofu, a punk band that also featured Benjamin Curtis, onetime Tripping Daisy member and now a member of Secret Machines.
Some of Joe's contributions on synthesizer are so important that they are still played live, as samples.
In the BBC Radio 1 Documentary, The Evil Heart of the Polyphonic Spree, he claims that his role in the band is to fry eggs with his mind.
Ad blocker interference detected!
Wikia is a free-to-use site that makes money from advertising. We have a modified experience for viewers using ad blockers

Wikia is not accessible if you've made further modifications. Remove the custom ad blocker rule(s) and the page will load as expected.